Yesterday's end of day surge was a prelude to a rally today, as I predicted it would be. Futures are yet again on fire. This is one of those 'go all in' opportunities. When you have this much strength early on it's gonna carry over well into the normal trading day.
The 2002-2007 trade is alive and well. The commodities and Euro boom which began in 2002 is far from over despite the fake financial crisis. The economies of India, China, Brazil, and Russia are still booming, hence the uninterrupted demand for oil, coal, grains, and fertilizer.
.
.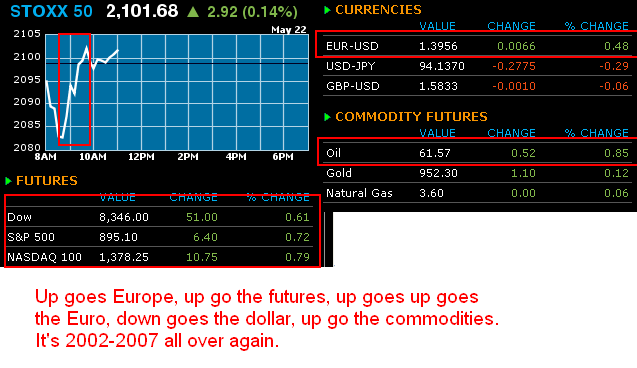 .
.
Geithner: Stimulus and Bailouts Are Working
According to Geithner, the bailouts and stimulus are bringing "immediate stability". I believe him. They are working, as evidenced by the abrupt rebound in consumer spending and massive stock market rally. On a related note, Bloomberg reported that the $500 million dollar China stimulus will "help the government achieve its growth target this year". Wall Street likes bailouts and stimulus and short sellers despite them, because they are effective in restoring investor and business confidence.
Yet the Ron Paul supporters and the radical left refuse to accept this fact, and are still waiting for that next shoe to drop. They'll be insolvent before that happens. Taxpayers need to learn to stop complaining about bailing out failing financial institutions, and instead keep maxing out their credit cards so that the stock market goes up.
Geithner also alluded to reform, but don't get your hopes up. He's savvy enough to know Wall Street thrives off risk and deregulation, and with the stock market and economy recovering he's not going to mess it up by appeasing the 'gold standard' loonies.
.
.


.
.
Write a comment
You need to login to post comments!