Various Indicators show that the the worst supposed financial crisis since the great depression may already be over.
We'll begin with the LIBOR rates which have fallen substantially since peaking in October 2008. According to the Wall Street Journal:
Data from the BBA showed three-month U.S. dollar Libor, seen as a key gauge of the effectiveness of the Federal Reserve's monetary policy, dropped to 0.82563% from Thursday's 0.85438%.

Since peaking at 4.81875% on Oct. 10, the three-month rate has fallen significantly. The sharp decline has been aided by aggressive monetary easing by the Federal Reserve.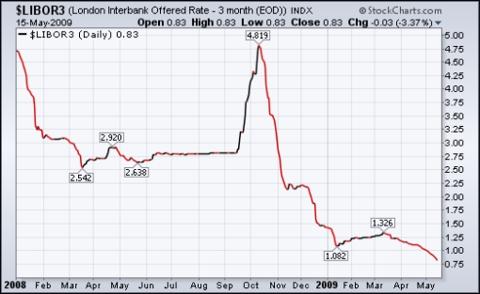 The most salient point is that the Fed's liquidity efforts ARE working as evidenced by the rapid decline in LIBOR rates, and is more proof that perhaps Geithner, Obama, and Bernanke are, in fact, doing a good job not only making the stock market go up, but also restoring liquidity and confidence.
In addition, the longer term yield curve is steeping, another bullish sign as explained by MarketWatch.com:
"A steep yield curve is bullish because it means that investors are expecting the economy to continue growing at a fast clip for several more years. If the economy does that, it will put persistent upward pressure on longer-term rates. Unless investors are enticed with much higher rates, therefore, they would not be willing for several years to lock up their money in a long-term CD or bond.
Finally, the VIX index is plunging.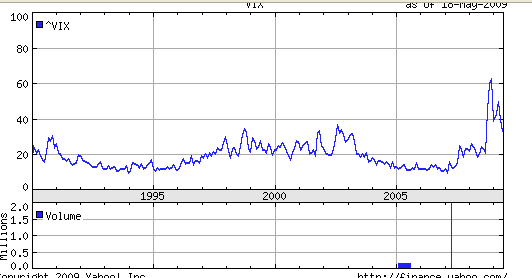 However one caveat is that a less volatile market doesn't necessarily imply an appreciating market, but it's nevertheless another indicator that the shock of the supposed crisis has passed.
We're seeing a massive recovery on a global scale after what was a brief shock to the financial system and economy back in September/October. Nothing short of divine intervention can stop this bull market. As the third wisest human in the world I implore readers not to short.
Write a comment
You need to login to post comments!