After checking my stats I see that I have about 40-60 daily repeat visitors to iamned.com. I would like to thank you guys for designating a tiny sliver of your day to making iamned.com a part of your life. I try to present a alternative, unorthodox, albeit unpopular view of economics and the stock market because the vast majority of economics and stock market blogs are overwhelmingly bearish, or redundant. Another blog I recommend that provides an alternative, bullish viewpoint is the Good News Economist
Another great day for stocks…the flu pandemic was a dud. Stress tests weren't stressful. No one cares about Chrysler bankruptcy. Why am I right? Because I am the third wisest human in the world. I know how stocks, economics, and finance works.
Babak from seeking alpha wrote a great article about how there is tons of cash in conservative, money market funds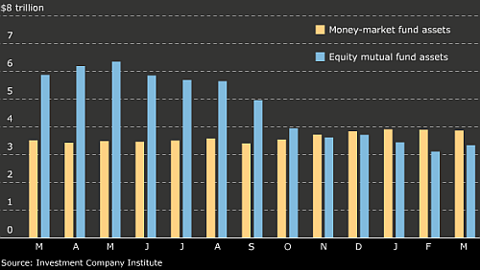 He writes
A build up of cash is normal in a bear market but before we can transition to a bull market it needs to be put to work. As people become convinced that the worst is behind us, they start to take more risk and begin to put their cash into the market. So unfortunately, just noticing a massive pile of cash doesn't really help us unless we can somehow pinpoint when and with what intensity this billowing mass of liquidity will start to be invested in the stock market.
I concur. As risk returns retail investors & funds will seek riskier assets, hence driving up stocks. Conversely, the dollar will fall.
What is next? Nothing. The economy will take care of itself thanks to the efforts of Obama, Geithner, and Bernanke. Just keep buying the dips or ride this rally. The path of least resistance is the past to prosperity. I implore these pessimists who are shorting or sitting on the sidelines to just try going long and see how you like it.
And have fun, most of all.
2 Responses to "Thanking my Readers"
Write a comment
You need to login to post comments!