If you can't beat em' join em' . Buy GS stock and stop pounding the pavement like a Huffington Post reading loser while everyone else makes money in this bull market.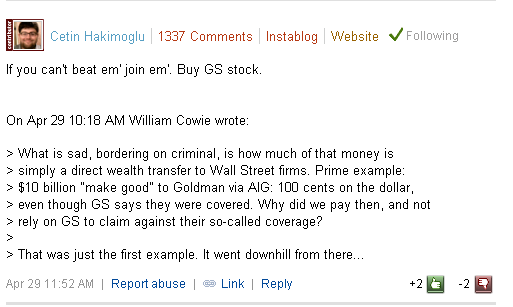 Goldman can do no wrong. $200 soon. Other banks are dropping like flies, but Goldman is run by the smartists minds in the world and value talent and skill over entitlement. Goldman rewards merit with generous bonuses, but the populist and leftist socialists want to confiscate these bonuses, white ironically espousing the virtues of affordable healhcare, education, and other lesser matters. They want to redistribute the wealth to fund initiatives that impede economic growth and innovation.
If some Goldman conspiracy is responsible for this huge rally how would you explain Google, Apple, Research in Motion, and Amazon.com are reporting record earnings? Maybe improving fundamentals are driving this rally, unless that's an illusion, too. To take it a step further, maybe reality in itself is a conspiracy because we're living a computer simulation powered by a Matrioshka brain. If so, I hope they program a 300 point rally on Monday.
2 Responses to "My Response to the Goldman Conspiracy Theorists"
Write a comment
You need to login to post comments!