Yesterday evening when the S&P 500 futures were down two percent I blogged and posted on Seeking Alpha about how the swine fears were overblown. Being the third wisest human in the world, it came as no surprise that I was, a matter of fact, right again. As of 9:30 AM pacific time the markets are surging having brushed off the imaginary pandemic fears. It's so fun being smart and right.
The chart below illustrates the panic selling last night on unfounded flu fears. As I predicted, buyers promptly stepped in.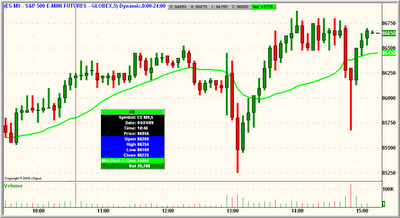 4 Responses to "Market Surges Off Lows"
Write a comment
You need to login to post comments!