Yesterday was a day of celebration for short sellers, pessimists, and doom and gloomers. However, little do they realize that their victory will be short lived and the indexes will resume their march higher. This rally has legs. No meltdown, no retest of lows, no more doom and gloom. Bernanke, Obama, and Geithner are doing a good job infusing liquidity and bailing out the too big to fail so that investor confidence rises, in addition to the stock market. So far it's working. Don't fight the fed. I wonder how many people have shorted yesterday? And how many will have covered in panic by Friday?
In the 2003-2007 bull market there was a sharp, albeit brief selloff in late March, which many bears mistakenly interpreted as a major reversal. Nope. The rally continued to their dismay, and they were forced to cover.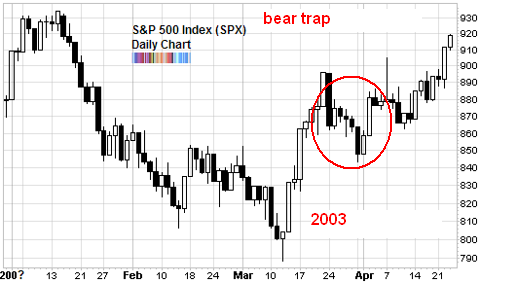 There is still considerable support on the SPX as shown from the chart below: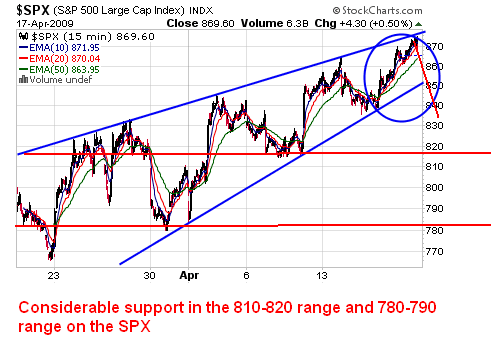 here is a similar chart for the SPY showing support: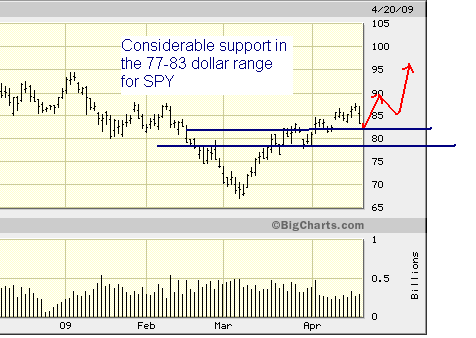 Here is another chart showing two different outcomes for how the market will rally. The green projection is more conservative with the DJIA retesting 7500.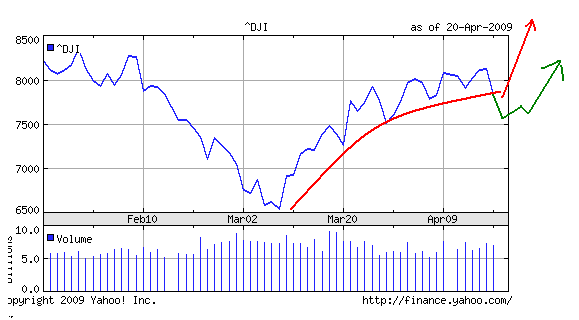 There will be no decoupling. Just like in the 2002-2007 bull market oil, gas prices,wheat, soybeans,corn, copper, United States & BRIC indexes will all rise together. The dollar will resume its long term decline, which began in 2001.
The US dollar index is forming a head and shoulders and is due for a major retracement; a very bad sign for bears as risk taking returns and the over hyped recession comes to a close:
As the dollar plunges and stock and commodities surge, gas prices will also rally. I expect to see $4 gas again within eighteen months, but it will have no impact on consumer demand because people still need to get to work and travel for leisure, and gas prices are considered inelastic. According to investopedia: When a price change has no effect on the supply and demand of a good or service, it is considered perfectly inelastic.
The UGA gas prices etf is a good proxy for national gas prices
In conclusion, I expect commodities, BRIC, US indexes to resume their rally. The dollar will plunge, and there will be a lot of panic covering in the days and weeks to come as shorts scramble to secure what little profit they extracted from Monday's big sell off. Buy Google, Apple, Rimm, Amzn, EWZ, FXI, Pot, Mos, and other cheap dollar, globalist, plays on the dips.
I signed up for twitter, too
http://twitter.com/iamned
9 Responses to "Bearish Victory Will Be Short Lived"
Write a comment
You need to login to post comments!