Nothing short of divine intervention can stop this bull market.
As a fifth week of gains draws to a close here once again here is a chart showing how the DJIA will retest 14,000 within 2-3 years. It is worth noting that these screenshots were taken on the 19th of March. Since then the DJIA has surged almost 700 points.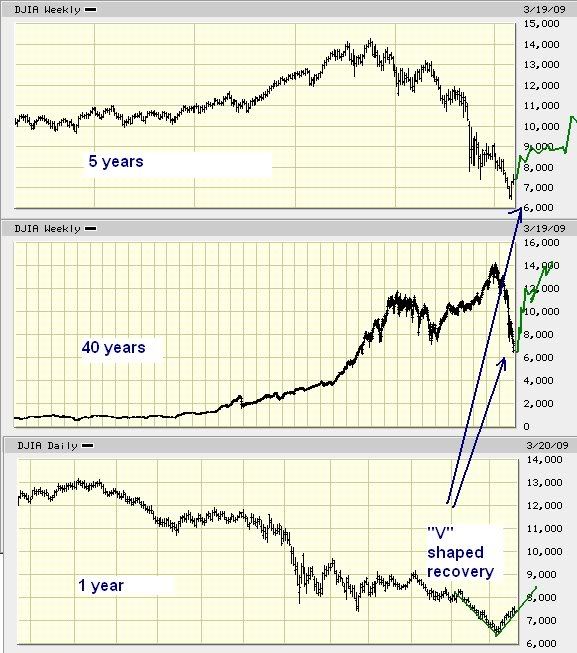 The reason why 'v shaped' recoveries are possible has to do with this equation which equates volume, price, and slope of a into a scalar value called an energy level. Then you can use another equation to break up the volume into 'order blocks' and assign probability of 'buy orders' and 'sell orders' though a normal distribution.
Essentially, what is found that the volume is the most important determinant of the likelihood of symmetrical recoveries. When the volume contracts, 'v shaped' recoveries become impossible.
As you can see from the chart, volume is at historic highs:
The new era is here. The Goldilocks economy is real. The transition to a type one civilization is inevitable, along with all the socio and economic changes that come with this phase shift.
I find it amusing how bearish bloggers and commentators are struggling to cope with this rally. As the market grinds higher day after day, so do the losses on the short side. Even the most ardent proponents of leftist, anti-globalist ideology can't persevere in the wake of assured insolvency. They must all capitulate, and capitulate they will. Each and everyone one of them will be forced to cover as the DJIA marches to 14,000 and beyond, and The Creators of The New World Order tighten their grip on the underpinnings of society. The illusion of a 'credit crunch', 'recession' and 'liquidity crisis' will become a distant memory as greed and excess return with a vengeance. The wealth gap will keep widening, and more spending and debt. More outsourcing and insourcing.
8 Responses to "Another Week of Gains"
Write a comment
You need to login to post comments!